EKKO 3019 | Another Party, Another Universe?!
Hello Human, how are you doing?
You seem like a dream from a distant past, but nonetheless, you're looking great! We're welcoming you to the year 3019. *laser shot*!
During this night, you will experience "3019, another party another universe": Droids will be dancing to music, Ms. Blockchain is screamin': UNLEASH THA CHAIN !! and you celebrate whilst sipping from an antique wine from a long forgotten brand. What else is new now machines do all the bullshit, like work, etc..
Let's party!
This year Utrecht is the cultural capital of the Local Group, so we payed off the commissioner with some crytoeuro's to look the other way.
In spite off legislations, there will be unlimited moonshine included in your ticket price and a dedicated smoking area.
As a special appearance, we have invited the only vegetable remaining of our worldly crop: Potato Ed Night to play some proper music.

The rest of our line-up is already invited, but being lightyears apart we will have to wait on conformation. Please expect: Electronics, Lasers, Tweaks, Geeks and Freaks. Security will be done by Hardwear Angels, you're expected to leave rayguns at the door.


If you make sure your costume is 3019 proof, you may keep it on.
(Als we beslissen om die overallen te kopen: As a backup we'll bring some extra spacesuits for your own safety.)
The Local Group, European Union 4, EKKO, 3019,
Another Party Another Universe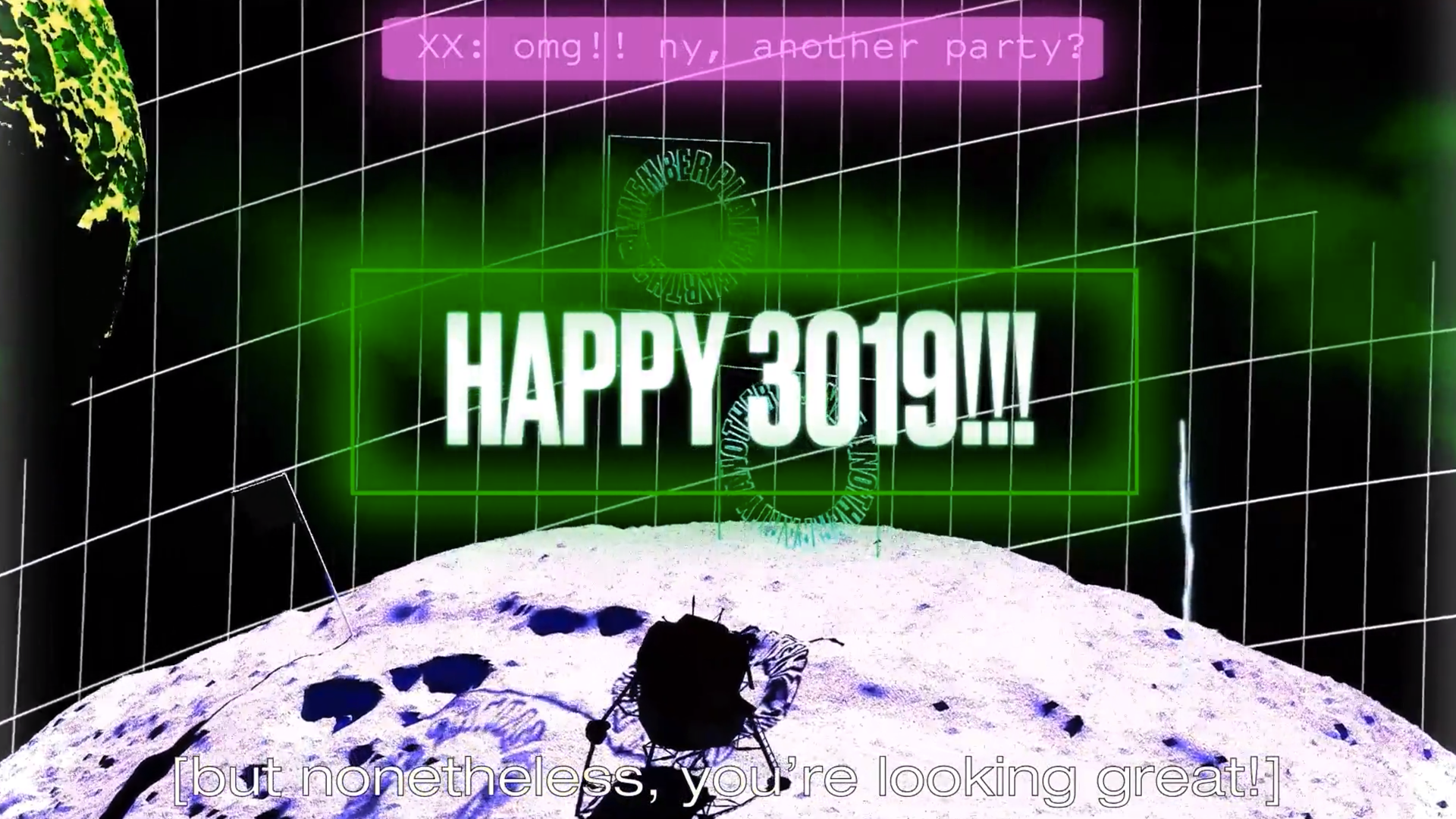 ---
Client: EKKO
Materials: online communication, videos Music: [Palettes]
Crapface - Alone
Holiday Howe - Wii SportVoice: XBoxGamerGirl
Special thanks: beeple-crap
Year: 2019
---
---
All content: Cyanne van den Houten Ⓒ 2012-2021, all rights reserved.
---
Tripcode is the hybrid practice of Cyanne van den Houten, designer and visual artist working in the fields of [communication] design and tech-art since 2016. Cyanne is founder of art-meets-tech collective TELEMAGIC, caring for digital rights and uncovering mysteries around the digital.
---